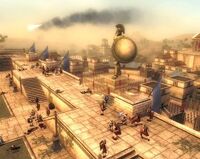 Sparta, also called Lacedaemon or Lakedaímōn, was a prominent city-state in ancient Greece, situated on the banks of the Eurotas River in Laconia, in south-eastern Peloponnese.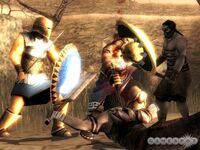 Sparta was unique for its social system and constitution, which completely focused on military training and excellence. Its inhabitants were classified as Spartiates (Spartan citizens, who enjoyed full rights), mothakes (non-Spartan free men raised as Spartans), perioikoi (freedmen), and helots (state-owned serfs, enslaved non-Spartan local population). Spartiates underwent the rigorous agoge training and education regimen, and Spartan phalanges were widely considered to be among the best in battle.
Ad blocker interference detected!
Wikia is a free-to-use site that makes money from advertising. We have a modified experience for viewers using ad blockers

Wikia is not accessible if you've made further modifications. Remove the custom ad blocker rule(s) and the page will load as expected.